Website development – what happens in the making of your website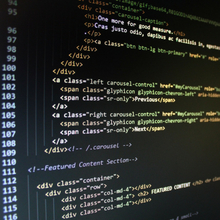 Many people don't understand how much work and the process that goes into website development. However, we do here at North West Design Studios as we have spent a long time perfecting our website development and web design skills.
We have a team of skilled web designers! They are there to make your website development as easy and stress-free as possible. Our web team will make sure that you are kept in the loop constantly. And we guarantee that you will be happy with your website, as we won't stop developing it and editing it until you are!
Website development
We use two different website development platforms: Magento and WordPress. Depending on what you ultimately want from your website will define which of these platforms will work the best for you.
Magento –
If your site will be geared more towards eCommerce (aka you will be selling items on your site) then this is the platform will work the best for you.  As the primary function of Magento is to be used for e-commerce sites. However, it is still very easily customisable and can be moulded to fit your needs.
The back end of Magneto is sorted into files, folders and categories. This means you can input huge amounts of products. It always allows you to have different shipping methods, as well as different payment methods.
WordPress –
WordPress was created for more content based sites rather than eCommerce. It is set up as a content management system, and while it can still handle transactions; thanks to the many plugins that you can install, that isn't its primary function. So if you're looking to set up a blog, or a website that holds information about your business, then WordPress is probably the best for you.
Plugins and 'widgets' reside in the back of WordPress. They allow control over the different elements of your basic theme. However, they are all still mainly geared towards publishing content such as text posts, videos and pictures.
North West Design Studios, North West
No matter what kind of website you are looking to set up, whether it's an online clothes store, bakery or travel blog, here at North West Design Studios, we pride ourselves on creating website developments that will successfully portray your brand.